Customer Favorites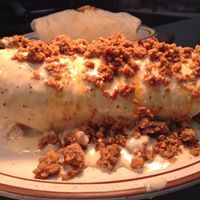 Ever wonder what to order when you come in? Well here is a list of customer favorites that can be of some assistance! Below are the TOP 3 customer favorites for breakfast and lunch. If you haven't tried all of these before make sure next time you're in to go down this list!
TOP 3 BREAKFAST
#1 Basque Burrito w/Homemade Gravy: Flour tortilla filled w/chorizo, potatoes, bell pepper, onion, eggs, and cheese *Adding gravy is extra but trust us… so worth it!
#2 Basque Omelette: Chorizo, ham, mushrooms, pimientos, onions, and Basque Sauce
#3 Basque Chorizo Con Huevos: Ground chorizo, scrambled egg and jack cheddar cheese served w/rice, beans and corn tortillas * Add fresh jalapenos to give it that extra kick!
TOP 3 LUNCH
#1 Basque Chorizo Sandwich: Basque Chorizo served on a French roll w/mild Ortega chilies and pimientos. Served with our fresh cut fries or green salad
#2 Carlos Salad w/Salmon: Fresh Salmon in a bed of romaine lettuce, onions, tomatoes, avocado, cilantro, Blue & Parmesan cheese w/spicy Caesar dressing
#3 Hot Lamb Sandwich: Tender slices of roasted lamb w/melted Swiss & Au-Jus w/green salad & Basque Chili Beans
Do you have a favorite? Let us know!
Categories:
Blog