The Villa Chorizo Sandwich Recipe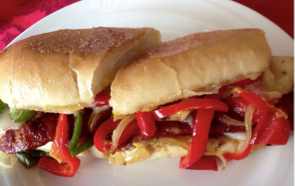 Total Time: 20 minutes (Prep: 8 minutes & Cook: 12 minutes)
Yield: 2 Servings
Ingredients:
2 Chorizos, left in casing, cut butterfly style
8 slices Red Onion, sliced julienne style
8 slices both Green & Red Bell Pepper, seeded and sliced julienne style
4 slices Pepper Jack Cheese
2 French Sandwich Rolls
5 tablespoons olive oil (Tip: pick up one of our Portuguese Olive Oils!)
1 tablespoon melted butter
Directions:
Heat 3 tablespoons olive oil in skillet on medium heat. Add Chorizo to skillet. Cook chorizo 6 minutes each side or until fully cooked.
In a small pan, on medium-low heat, add 2 tablespoons olive oil, sauté the sliced red onions, green and red bell peppers together for 3 minutes.
On a flat pan, medium- low heat, add sliced sandwich rolls and spread lightly with butter on the outside. Toast sandwich rolls for 2 minutes each side.
When everything is ready, open sandwich roll and place chorizo in roll. Top chorizo with pepper jack cheese. Add the warmed up slices of onion, green and red bell peppers. The jack cheese will be nice and melted from the heat of the chorizo and veggies.
Enjoy!
Categories: Blog, recipes