About
Villa Basque Deli
Home of Pete's Famous Basque Chorizo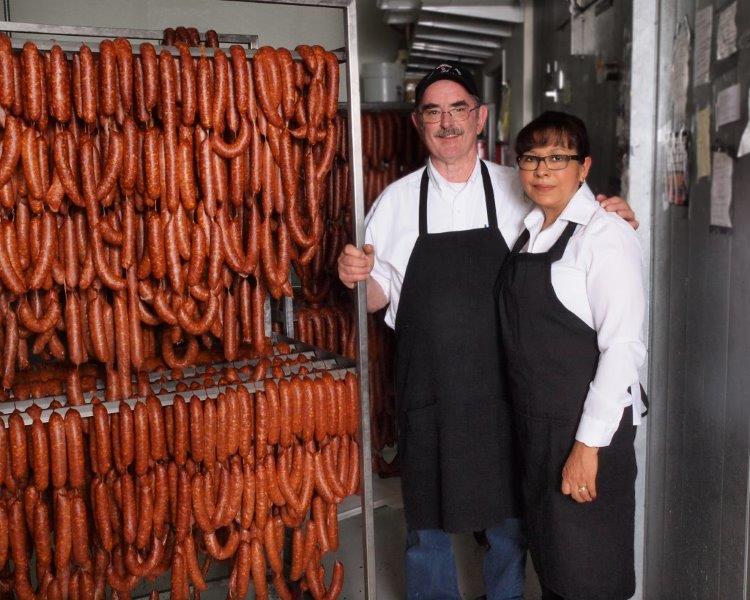 Since 1997
The story of the successful restaurant and its owners Pete and Martha Coscarart, is a fascinating look into Basque culture in Nevada and the American Dream they've achieved through years of honesty, integrity and hard work. Through this determination, the chorizo for which Villa Basque is famous for, has been enjoyed and celebrated the world over, feeding countless families from coast to coast and American soldiers serving in the Mideast.
The history of Pete's arrival to Nevada at the age of 16 to work as a sheep herder, is one of inspiration. He taught himself the English language, not knowing a lick of it when he arrived. He also taught himself music, (he plays a beautiful accordion). By blending hard work, good humor, solid communication skills and faith in Jesus Christ, He brought this steadfast business acumen to Carson City with the opening of Villa Basque Deli and Cafe 23 years ago.
Pete's famous Chorizo originated in 1984 in Battle Mountain, Nevada.
A family recipe that was passed down from generation to generation. Chorizo is traditionally from the Basque region. Basque are people living in a small region that straddles the border of Spain and France, from the sea in the west to the Pyrenees in the east.
Chorizo has formerly been used in paellas, which is a traditional dish in Spain. Chorizo has also been known to be used in stews, chili beans, and sandwiches and even scrambled with eggs for breakfast. Chorizo is naturally air dried and made from 100% pork meat, flavored with garlic, paprika and other spices. It is usually fried or grilled. A unique taste which has become popular in the United States.
Pete and Martha …
invite you to join them at the restaurant for breakfast and lunch, located at 730 Basque Way, Carson City, on the corner of Roop and Hot Springs.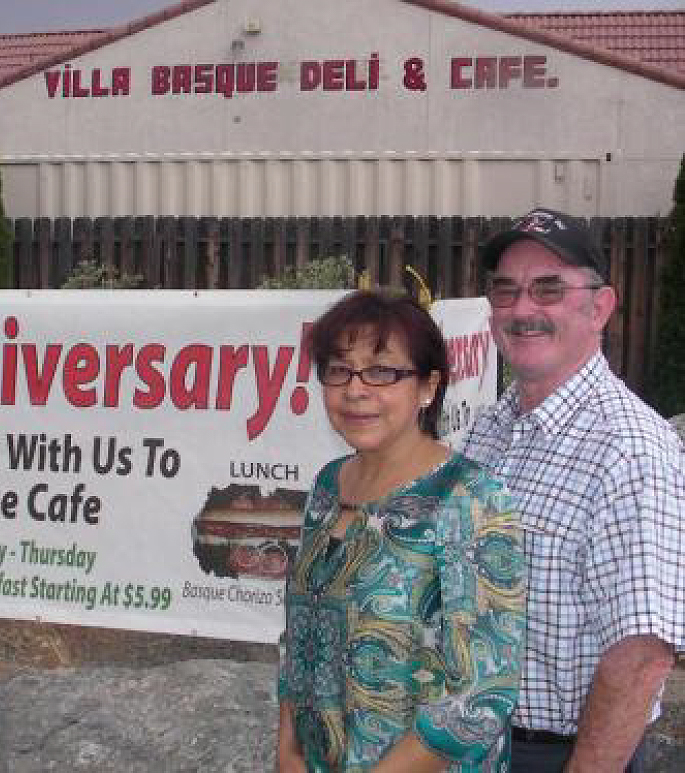 We Love Carson City!
…Giving Back.
Founded on hard work and dedication to the community, Villa Basque Café understands the importance of giving back. Though out the years', they have proudly sponsored numerous organizations and efforts in and around Carson City, Nevada.
How we show that We Love Carson City!…
In 2007, Pete and Martha donated 100 lbs. Pete's Famous Basque Chorizo to our troops in Iraq. In appreciation, 593rd Transport Company, 152nd Airlift Wing, and 152nd Intel Squadron signed a banner for Villa Basque Café. An article in the Summer 2007 Battle Born Magazine memorized the event.